Ellen Clapsaddle (1865-1934) is recognised as the most prolific postcard and greeting card artist of her time, and her characteristic style is both greatly admired and frequently copied. There are many postcard collectors that specialises in Ellen Clapsaddle postcards, or on a certain subset of her huge portfolio.
Clapsaddle was active in the postcard industry from the early 1890s, and she was an integral part of the Golden Age of Postcards in the United States, a period that lasted from the late 1890s to the onset of WWI.
Clapsaddle is credited with over 3,000 designed for souvenir/postcards, but obtaining an exact number is difficult since only some of her creations were signed.
Among other things, Clapsaddle created a lot of postcard designs for specific holidays celebrated in the United States, such as Valentine's Day, St. Patrick's Day, Independence Day, Halloween, and Christmas.
Ellen Clapsaddle started drawing at an early age, and her parents encouraged her to pursue this hobby. After obtaining a higher education in art in New York City, Clapsaddle returned to her parents in a rural community where she worked as a private art teacher from her home.
In the early 1890s, two designs that she had sent to the International Art Publishing Company in New York City were accepted to be used as souvenir/postcards. This was to be the start of a very long and fruitful partnership between Clapsaddle and that company.
In 1901, the company sent Clapsaddle to Germany, where the engravers utilised by the company were based. By working closely with the engravers, Clapsaddle could make even better postcards. It is around this point that her designs begin to appear on a wide range of objects; not just souvenir and post cards, but also on calendars, trade cards, booklets, and more. They could also be purchased as watercolour prints.
Collecting Ellen Clapsaddle cards
Some collectors collect any and all from the Clapsaddle portfolio, while others specialise in certain fields. At auctions, her mechanical cards have proved to be especially pricey.
Some private collectors hold collections containing over 1,600 individual "Clapsaddles". One of her most devoted fans, Elizabeth Austin, has created a Clapsaddle checklist for souvenir/postcards which makes it easier for collectors to identify which cards they are missing. This checklist has been expanded by Ellen Budd, who added many rare and less known cards to give it an even better coverage.
Biography
Early life
Ellen Hattie Clapsaddle was born on January 8, 1865. Her parents were Dennis L. Clapsaddle and Harriet (née Beckwith) Clapsaddle. The family lived in a small farming community in Herkimer County, New York State, USA.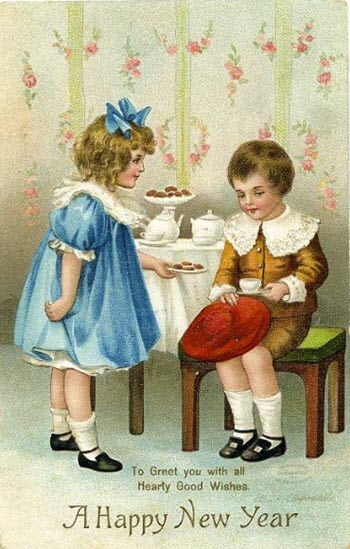 Ellen Clapsaddle attended a small rural school until 8th grade. Thereafter, she boarded in Richfield Springs so she could attend the Richfield Springs Seminary to prepare for higher education. After graduating in 1882, she applied for and received a scholarship to attend the highly selective Cooper Union Institute for the Advancement of Science and Art in New York City.
Early artist career
After completing her studies in New York City around 1884, Clapsaddle returned to living with her parents and started working as a private art teacher, holding classes in her home.
After her father's death in 1891, Clapsaddle moved back to Richfield Spring, together with her mother, to live with an aunt. In Clapsaddle, she continued to give art lessons, but also found work making portraits and other artwork for local wealthy families. She also sent examples of her work to various publishers.
Commerical breakthrough in the postcard industry
After moving back to Richfield Spring, two of her designs were accepted by the International Art Publishing Company in New York City to be used as souvenir cards / postcards. They became bestsellers and launched her career as a creator of souvenir and post cards.
Leaving Richfield Springs
In the mid-1890s, Clapsaddle had become such an important artist for the International Art Publishing Company that they invited her to move to New York City – and she accepted.
In 1901, the company sent her and her mother on trip to Germany, where Clapsaddle could develop her art by working closely with German engravers.
After her mother's death in 1905, Clapsaddle returned to the United States in 1906 where she established the Wolf Company; a full subsidiary of the International Art Publishing Company and with Clapsaddle as its only artist.
World War I
Clapsaddle was in Berlin during the early part of World War I, but returned safely to the United States in the summer of 1915 and remained there until the war was over.
After the war
In 1921, Clapsaddle visited Germany again, returning to New York City in early 1922.
She lived in her apartment in Manhattan throughout the rest of the decade, but in January 1932 she was admitted to the Peabody Home for the elderly on Pelham Parkway in New York City.
Ellen Clapsaddle died on January 7, 1934, one day short of becoming 69 years old. She was buried alongside her parents in Lake View Cementary, Richfield Springs.